Spectrum Designs
Welcome to Spectrum Designs PromoSearch! Using this new state-of-the-art online catalog, you can search through the wide variety of promotional items available for purchase from Spectrum Designs Foundation. As a registered 501(c)3, all our proceeds support our mission of employing teens and young adults with Autism and related developmental disabilities.
Spectrum Designs Promo Items - Make a statement AND make a difference!
Featured Item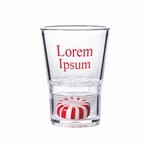 2 Oz. Flav-A-Shot™ Infusion Acrylic Sh...
Infusion acrylic shot glass two piece 2 Oz. acrylic shot glass. Place an edible condiment (such as candy, fruit, gum, licorice, chocolate, etc.) into the removable bottle compartment of the unit. Reas...
$2.70 - $3.42
Signature Showrooms