Featured Item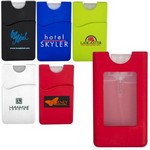 Silicone Wallet Sleeve w/Sanitizer - 0.6...
PP Plastic credit card-sized 0.67 oz. (20 Ml) antibacterial hand sanitizer spray in removable silicone sleeve with pocket for credit cards, transit cards and business cards. Features light citrus scen...
$2.82 - $3.58
Stadium Sports
Since 1993, Stadium Sports has been one of the region's leading providers of team, corporate and small business identity apparel and promotional products. Our vast database of advertising and promotional items allows you to choose those that are uniquely you. We invite you to come and see what our team of experts can do for you today! Select the search button to begin.
Stadium Sports Home