Featured Item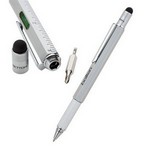 Graphica II Bettoni 5-in-1 Aluminum Pen ...
Twist-action ballpoint with textured metal grip, spirit level, 3" ruler, small Phillips and flathead screwdriver and a capacitive stylus that works with touch screen devices. Oxidation is required, on...
$13.99 - $19.99
Welcome to Streamline's Web site.
Here you will find solutions to all of your printing needs. Streamline is dedicated to offering you quality products and services at a great price, and with personal attention. If you require a special item or service that you have not been able to find anywhere else,and it is not listed within this website, contact us.
We are always happy to take care of any special requests. Streamline offers quality products and services with customer dedication and delivery to specification. Streamline has an eclectic array of business partnerships, which allows us to pass on the savings of overhead to you. You will also notice, in the variety of contact information, as well as Streamline's commitment to offer everything and anything that falls under the umbrella of printable materials, a company that truly works for every consumer, big or small.
Signature Showrooms