Welcome!
In the promotional products arena, there are over 5000 suppliers/distributors selling over 850,000 products! In our desire to become your total service provider, we have extended access to this promotional products network through the Sutter's Mill website.
Although you cannot select items here to be purchased through our shopping cart, we would be delighted to assist you in the ordering of any of the products you find, by simply calling us at 1-800-824-0594.
Featured Item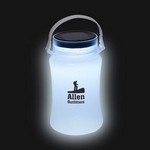 Foldable Waterproof Container w/Solar Li...
Foldable Waterproof Container w/Solar Powered Light is uniquely different! This floating, waterproof lantern is charged by solar and USB (cable included) . Light modes include normal bright, super bri...
$13.35 - $15.35
Signature Showrooms