Welcome to the Worrell Corporation Promo Store!
Worrell Corporation is the single-source solution for all of your business printing and marketing needs. For over 30 years, we have been providing businesses like yours with their office solutions. Let us show you how we can save your company time and money by consolidating your purchases. Along with the ease of online ordering, we provide on-site warehousing to provide for your distribution and fulfullment needs.
Call us to get started: 1-800-297-9599
Featured Item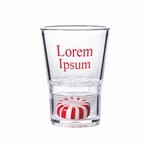 2 Oz. Flav-A-Shot™ Infusion Acrylic Sh...
Infusion acrylic shot glass two piece 2 Oz. acrylic shot glass. Place an edible condiment (such as candy, fruit, gum, licorice, chocolate, etc.) into the removable bottle compartment of the unit. Reas...
$2.70 - $3.42