Custom & Volume Plush
Custom-designed, Branded High Volume Plush
If you can imagine it we can make it in plush!
From unique company Mascots to fully Custom Characters, our extensive expertise means we can create and develop original plush animals and characters that meet your goals. Our USA-based, in-house design department can provide ideas, relevant virtual samples and examples of similar plush animals and brand character development that spans over 60 years of success.
Custom Designed Characters for Brands, Mascots, Movies, Books and TV Characters
Custom Breed-specific animals
Create your company mascot in plush
Recreate an actual animal in plush
Customized embroidery and imprinting
Custom Clothing and Accessories
Min. quantities of 1800-3800 for Custom-Designed Animals & Characters
Turnaround & Minimums
Min. quantities of 1800-3800 for Custom-Designed Animals & Characters. Production time estimated to be 120-150 days from approval of prototype.
Min. quantities of just 250 for Breed-specific Stock Animals. Production time is typically 10-15 days from approval of proof, subject to availability.
Click here for more information.
"Douglas has the best quality and most creative Stuffed Animals around. This is where to go if you need something unique." — BH, Creative Advantage
---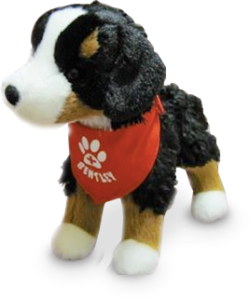 For example, DOUGLAS created this custom promotional service dog based on the coloration of an actual dog.
Examples of Our Work
A personal messenger for any occasion!
With decades of experience, we've amassed a large list of clients and a tremendous portfolio of custom work.
Examples are always available upon request. Please call or email us.
If you need plush animals right away for an event or trade show, we still stock over 400 stock breed-specific animals, including: Dog and Cat Breeds, Wildlife, Farm Animals, Horses, Sea Life, Jungle Animals, and even Teddy Bears!
Most can be branded and shipped in 10-15 business days.
"Great service and wonderful communication. I appreciate that they referred my customer back to me."
— BR, Mountain Manufacturing Promotional Products
---